REGISTRATION IS NOW OPEN!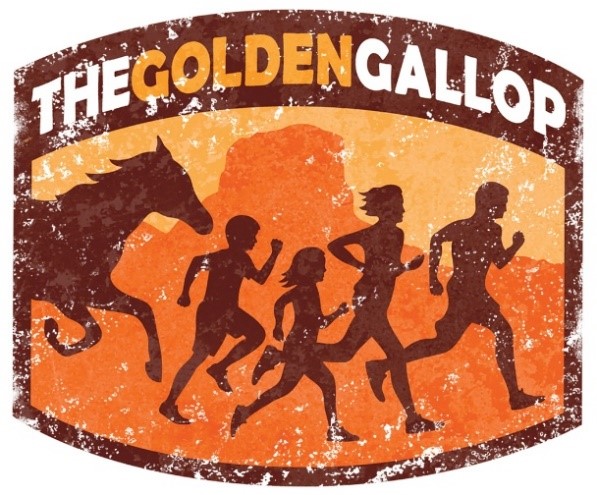 Register
now for the 15th Annual Golden Gallop September 20, 2020. 5K, 10K & Kid's Fun Run
GOLDEN HIGH SCHOOL GHS STUDENTS MAKE NEWS ACROSS THE WORLD!!
From the walls of GHS, the story of students using Post-It notes to reach out to an anonymous message and spread empathy and kindness makes CBS, CNN and FOX News as well as articles in the UK and Australia. Way to go GHS!! CNN, CBS, FOX CONSTRUCTION IN GEOMETRY AT GHS BUILDING SUCCESS.GHS a new way of teaching geometry! This class gives students the opportunity to put their geometry skills to practical experience by building a house for Habitat for Humanity. Please see the photos of our hard working students below.
BELL MIDDLE SCHOOL BELL QUALIFIED TO COMPETE IN THE NATIONAL CYBER-ROBOTICS CODING COMPETITION AGAIN! Students worked very hard to learn to program these virtual robots to autonomously navigate complex environments and collect as many power packs as possible in a limited amount of time. Students will be competing against other partner teams from middle schools across the west, including Arizona, Idaho, Montana, Nevada, Utah and Wyoming. Congratulations to our two Bell teams that are CRCC finalists for 2020. If a student you know is interested in coding and competing, read on! The spring CRCC competition season opens in early March! Stay tuned... More info about the CRCC can be found at: https://crcc.io/
Fire sprinkler systemUpgrades to auditorium (depending upon funding availability) BELL CONTINUES TO PROMOTE THEIR ROAR! The ROAR (Respectful, Optimistic, Accountable, Responsible) is expectations and lessons of empathy and respect through quarterly grade level meetings, classroom/hallway/lunch/recess observations and more frequent follow up meetings. Additionally, results from adopting Restorative Practices a year ago at Bell are convincing! According to Principal Michele DeAndrea-Austin, "The number of recurring conflicts, Safe-2-Tell calls, and major behavior infractions have significantly declined. We have had over 150 restorative conferences between students, and even between students and staff. Students are also engaging in Community Circles at least once per week in one of their classes, and most likely more than that. We are committed to this practice, as we continue to work on Bell Student Citizenship." BELL WILL BEGIN THE 2020-2021 BOND CONSTRUCTION PROJECT (THANK YOU JEFFCO VOTERS!) The building begins this summer and will include the following improvements: Over $5 million in improvements7,000 square feet of new spaceRenovated interior classrooms (regular and science classrooms plus upstairs computer labs) KYFFIN ELEMENTARY GROWTH AND SUCCESS FOR ALL. Kyffin continues to focus on continual school and student improvement and believes that this happens through collaboration, data collection and analysis, and changes of instructional practice based on student results. It is this intense focus on student learning that Kyffin utilizes to improve outcomes for all students. Currently 55% of students have met their end of year math goals, and 60% of students have met their reading goals!  Kyffin finds many innovative and engaging ways to accomplish these goals, including a number of Kyffin's fifth graders recently presenting their passions and learning through their very own TED Talks.
MINDFULNESS AND EMPATHY. Students have been learning how to increase their general mindfulness through Mindful Moments in PE. This past month the focus has been on Kindness and Gratitude. In January Kyffin joined in "No Name Calling Week" and reviewed ways to show kindness and empathy. Students were encouraged to sign the "I pledge to use kind words" poster and shared compliment cards.
CONGRATULATIONS! Kyffin Super Spellers Norah Sutton and Emiko Mukai were our top two spellers at the Kyffin Spelling Bee and will represent Kyffin at the Golden Spelling Bee on January 30th. Way to go super spellers!  Kyffin's talent show, which was held in January, was another big hit. Congrats to our many students who were brave enough to share and perform their talents in front of an audience! LOOKING AHEAD. Kyffin's next PTA meeting is February 4th and will include a special guest presentation by Executive Director of Security and Emergency Management for Jeffco Public Schools, John McDonald, who will discuss school safety. In February we are also looking forward to students performing at Oral Interpretation and our Kids Heart Challenge through the American Heart Association. This is a great opportunity for students to engage in a service learning project and focus on helping and supporting others. MITCHELL ELEMENTARY https://www.signupgenius.com/go/20f0c4faeaa22a6fe3-spring3 MITCHELL'S EQUITY AND DIVERSITY COMMITTEE HOST GUEST SPEAKERMitchell's Equity and Diversity Committee hosted their first guest speaker, in what they hope will be an ongoing series. School psychologist Dr. Kinnett Richards gave insight and advice on how to speak to your children about race, disabilities, family structures, and more! There was an excellent turn out of parents and childcare was provided. The continued involvement and ongoing support from Mitchell families on such sensitive topics is greatly appreciated. MCAT What is MCAT? MCAT (Mitchell Collaborative Advisory Team) serves as an advisory body to support our school's shared leadership model. All are welcome! These quarterly meetings are held to discuss and gather input around school improvement priorities and strategies, student-based budgeting and more. Meetings are held after school at 3:00 p.m. in the Mitchell Library. The following items were discussed at the third meeting held January 28th: Review of School Performance & Major Improvement Strategies; Student Based Budgeting Update and a Question and Answer Period for Golden Articulation. The next (and final) meeting for the 19-20 school year will be April 14th. Spread the word! CONFERENCE DINNERS FOR TEACHERS PTA provides dinner for our fantastic teachers during Parent/Teacher Conference week. A few items are still needed. Click the link below for details! RALSTON ELEMENTARY KINDNESS CREW COLLECTS SOCKS The Ralston Kindness Crew's December campaign, Socks! was an initiative to enlist the support of the entire community to collect socks for people in need. The Socks! Campaign, in its second year, was a huge success. Can you believe over 400 pairs of socks were donated by Ralston Families? The socks were very well received by a shelter for homeless youth in downtown Denver called Sox Place, fondly named for its founder who handed out socks to people who needed them on 16th Street before opening this shelter for kids. A box was also delivered to The Action Center, which provides clothing and other essentials to homeless youth in Jefferson County. http://soxplace.com/,https://theactioncenterco.org/ Way to go Kindness Crew and Ralston families - you made these generous donations possible! JOHN IRWIN AWARD OF EXCELLENCE. Ralston honored at the January BOE Meeting for earning the John Irwin Award of Excellence, Again! The Colorado Department of Education John Irwin Award of Excellence is given to schools that demonstrate exceptional academic achievement over time. Ralston received an Exceeds Expectations rating on the Academic Achievement indicator of the School Performance Framework reflecting exceptional performance in Math, English Language Arts, and Science. This is the 16th consecutive time Ralston has earned this prestigious award.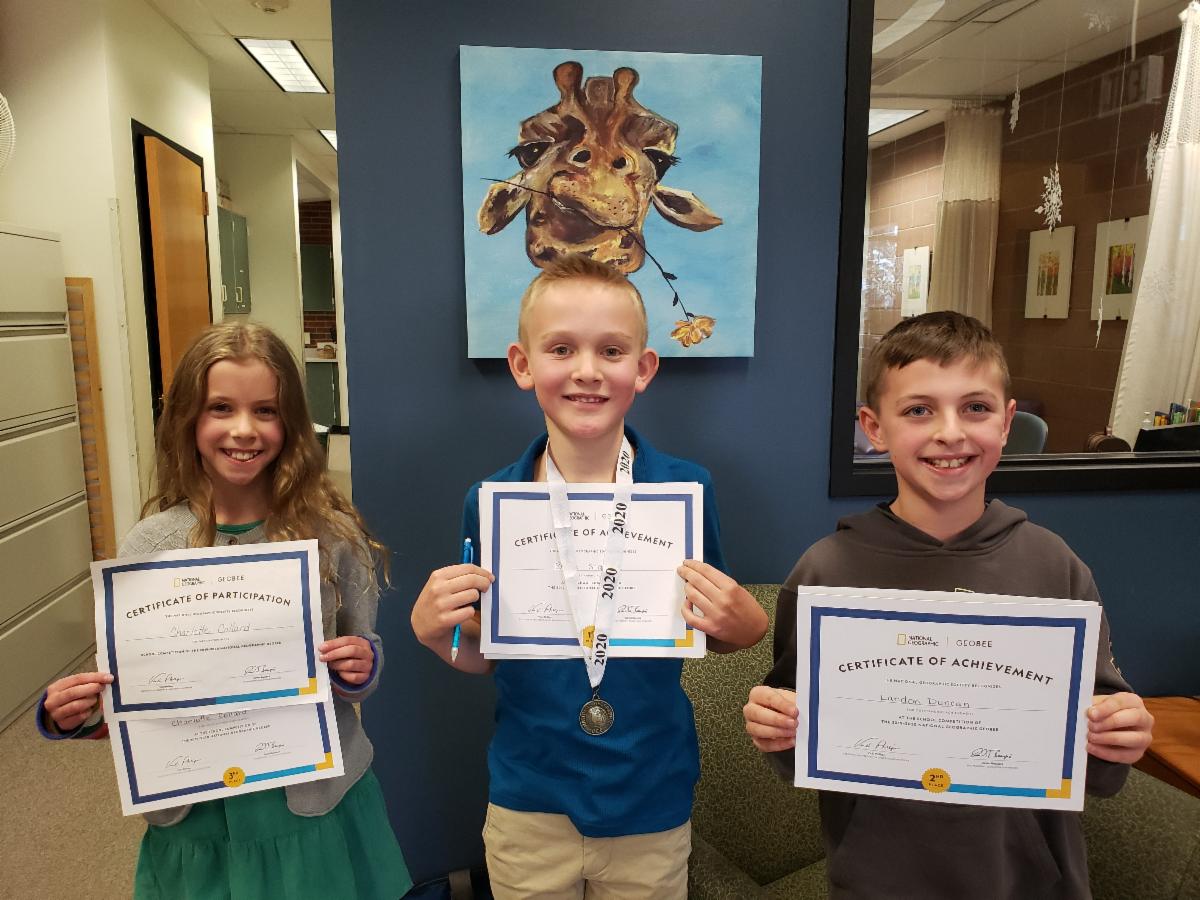 RALSTON GEOGRAPHY BEE! Ten students participated in the school-level National Geographic GeoBee competition on Wednesday, January 15th. Bode Starick, a 4th grade student, won 1st place, Landon Collins, a 4th grade student, won 2nd place and Charlotte Collard, another 4th grade student, finished in 3rd place. The school-level competition is the first round in the annual National Geographic GeoBee, a geography competition designed to inspire and reward students' curiosity about the world. Bode will now move on for a chance to compete in the state-level bee. Good luck, Bode!
RALSTON SPELLING BEE! Twenty-two students participated in the school-level Scripps Spelling Bee Competitions on Tuesday, January 22nd. This year's competitors showed great skill in the opening rounds with a higher percentage of correctly spelled words than the recent past. Mark Williams, a 4th grade student, is our school champion and Charlotte Collard, another 4th grader, was the runner-up. Both Mark and Charlotte will move on to the Golden Area Spelling Bee on January 30th. Congratulations! HOLIDAY CHOIR On December 12th, students and families were treated to a delightful holiday musical program featuring the Ralston Choir. The Choir, composed of 4th and 5th grade students, performed five lively seasonal numbers covering everything from Hannakuh, Christmas and seasonal weather. Kudos to our amazing music teacher, Mrs. Shealyn Crocombe, for her hard word with these performers.
RALSTON TAKES THE STAGE PRESENTS: BEAUTY AND THE BEAST, JR. On December 19th, 60 students in grades 3 - 5 combined their theatrical talents under the direction of Ralston's fabulous music teacher, Shealyn Crocombe, and an amazing parent volunteer, Leah Stockham, to take the stage in the heartwarming musical performance of Beauty and the Beast, Jr. Students auditioned in October and then began twice weekly practices. A packed house was present for both the afternoon and evening performance. No one was disappointed! A special thank you to all the parents who helped with sets, costumes, and make-up: Melody Schreiber, Sara Heard, Nicole Corbin, Karen Force, Joy Richards, and Grace Ascione (if I forgot anyone, I apologize). Kudos to the wonderfully talented performers and brilliant sound technician, Jake Flores! SHELTON ELEMENTARY SPELLING BEE AND GEOGRAPHY BEE WINNERS! Congratulations to Corey Saffer for 1st place in the Spelling Bee and to Ethan Maes for 1st place in the Geo Bee, both are 5th graders in Mr. Johnson's class! The Spelling Bee's main purpose is to help students improve their spelling, increase their vocabulary, learn concepts and develop correct English usage that will help students all their lives. Many of these words are very difficult to spell and to pronounce and all of Shelton's contestants did a fabulous job and we couldn't be more proud of all of them. Six students from Shelton Elementary participated in the school-level competition of the National Geographic Geo Bee on 01/10,020. The school-level competition is the first round in the annual National Geographic GeoBee, a geography competition designed to inspire and reward students' curiosity about the world. Ethan will now move on for a chance to compete in the state-level bee. Good luck, Ethan! To all students who practiced and studied for both the Spelling and Geography Bee, we applaud you. It takes hard work and determination to compete in these events. SHELTON FAMILY ENGAGEMENT NIGHT FOR 4TH AND 5TH GRADE: A HUGE SUCCESS! Shelton hosted their first annual 4th/5th Grade Family Engagement Night on 01/22/20. Over 120 individuals representing 55 families attended this event. It was truly an exciting night of family engagement and student led activities in the classroom! Families in 4th grade joined their children in classrooms and participated in activities like math games and Scavenger Hunts. The Google Earth Scavenger Hunt was a big hit! Families learned new math games that can be played at home and were excited to learn about Sphero Robotics. Students shared how to program and execute the Sphero's movement through mazes while answering questions about classroom events and daily routines. Families learned about community circles, RACE, and Depth and Complexity to name a few. In 5th grade students led their families in a variety of activities using their 1-1 devices, including activities in Google Classroom. Some families found the Breakout boxes to be the most engaging! It took teamwork to solve the various puzzles and unlock the Breakout Boxes. It was a wonderful night of learning for all and hats off to Terri Pankey, Shelton's Family Engagement Liaison, for pulling it all together! "ALADDIN" THE MUSICAL You didn't want to miss this! Lots of folks showed up to watch Shelton students as they performed on Thursday, January 30th in Shelton's 1st ever musical production. Students had been working hard for several months and were very excited to put on this performance. It was a huge success! BRAVO!! 7th ANNUAL STUDENT ART SHOW. The Jeffco student art exhibit hosted and funded by the Foothills Art Center. Congratulations to both Audry Tincher and Nicholas Strathmann for having their art work displayed at the Foothills Art Center. The opening reception was held on Thursday, January 23 and the show is now open to the public from January 24 - April 5. JEFFERSON COUNTY SCHOOLS PRESENT THE EQUITY AND EXCELLENCE. Congratulations to Malak Almrabat, Wynn Bodor and Tennyson Mischel! SHELTON SCIENCE AND ENGINEERING FAIR Shelton's Science and Engineering Fair will be held on February 6th, 2020. Students are getting excited about inventions, experiments and cool research topics. Always a favorite, the fair is fun way for students to investigate questions they are curious about in STEM (Science Technology Engineering and Math), make posters to show their results, and present them to friendly STEM professionals and college students. SHELTON'S SILVER CELBRATION - SILENT AUCTION Tickets are on sale now for the 4th annual Shelton Silent Auction. This event will be held on February 27th, 2020 from 6-9:30 pm at the Buffalo Rose in downtown Golden. The Shelton community would love for everyone to join them for an exciting night out while mingling with parents in the community, enjoying great food, drinks and tons of fun. The money raised will help the PTSA fund STEAM (Science, Technology, Engineering, Art and Math) programs at Shelton. There are loads of things to bid on so whether you choose to attend the event or just bid online you will not be disappointed. More information can be found at Shelton Silent Auction or order tickets online directly at Shelton Silent Auction Tickets . We look forward to seeing you there! WELCHESTER ELEMENTARY SPRING CLASS PICTURES! Say Cheese! Students will bring their best smiles for Spring Class pictures taking place all day on Wednesday, February 5th. Students will have a chance to get the latest and most exciting books this year! SCHOLASTIC BOOK FAIR! The Book Fair is coming on Friday, February 7th and February 10th. SPRING PARENT TEACHER CONFERENCES Spring Conferences will be held on Wednesday, February 12th from 3pm-7pm and all day on Thursday, February 13th.